One-of-a-kind jewellery that nourishes the mind, body, and soul.
"Beautiful work, exactly what I wanted! My custom bracelet is gorgeous!"  Jen, Stoney Creek, Ontario
"I just received my bracelet and essential oils! I love it! Thank you so much!! The turquoise beads are so beautiful!" Kate, Hamilton, Ontario 
"I ordered a custom lava bead bracelet from Three Peas and I am so in love with it! Carrie was such a pleasure to work with, so open to my ideas while also contributing her considerable knowledge. In just a few days, Carrie was able to turn the few ideas that I had in to a gorgeous bracelet; she made the process quick, easy, and one that I am definitely looking forward to repeating."  Andrea, Stoney Creek, Ontario
Shop Three Peas in person!
---
The smell of spring is in the air, and that can only mean one thing…..MARKET SEASON!! First up:  Made in the 519!Join us THIS SATURDAY, March 25th from11-4p at the Paris...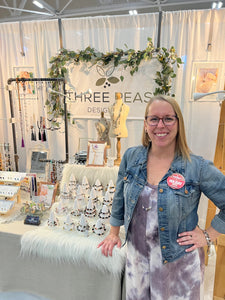 We thought we were done with markets for the year but decided to sneak one last gem into our line up. 💎 Join us this Friday & Saturday, December 16-17...
Shop our unique designs at one of our upcoming, in-person markets. 
We'd love your feedback!

Sharing your experience with us will help us grow our business and will help others decide if they'd like to choose Three Peas as well!
Leave a Google review HERE.